Business advisory services and business finance are the foundations of professional practice at Strategic Rail Finance. We often refer to them as "executive advisory services" as we provide executive-level expertise in strategy, finance, operations, and business development to companies meeting challenges. While most of our work focuses on the "middle market" of the railroad industry – companies large enough to engage in acquisitions and financial restructuring but without a full executive team—SRF also advises some of the largest organizations in the rail industry.
SRF's combination of rail industry knowledge, operational expertise, financial knowledge, and relationship focus provides our starting point in any engagement. We take a "systems approach" to business advisory—developing solutions with careful and collaborative consideration of the broader context of every objective. That context is organizational, financial, commercial, regulatory, community, environmental, and personal. Yes, personal. We own businesses and appreciate that for most business owners, business is personal.
To succeed as advisors, we address the whole system, quantifying opportunity while systematically assessing risks and proposing mitigations. SRF can also assist a business through special situations – workouts, restructuring, divestitures, and even liquidations. No matter where you are in a business cycle, SRF can support your executive team through the toughest challenges.
SRF is here to help you plan growth, develop business, address special situations, and create new ventures. And while our focus is primarily commercial, our broad experience leading and advising public sector agencies can bring valuable insight to considering and designing private-public-partnerships ("3P" projects). We can also help your private business access public finance to leverage your investments. 
SERVICES
Marketing and business development
Rail business and asset valuations
Mergers and acquisitions
Comprehensive benefit-cost analysis
Corporate, project, and equipment finance

BUSINESS  FINANCE
Corporate finance begins with sound fundamentals and cogent business analysis. Strategic Rail Finance advisors can analyze your project or corporate financings and help design the optimal capital structure.
SRF's most frequently requested advisory service is to create a customized "capital access strategy". With a "whole-system" approach, we comprehensively analyze both the business itself (revenue, expense, business development, financial reporting, organization structure, collateral assets, etc.) and business risk (country, counterparty, commodity, environmental, regulatory, etc.) to identify ways to efficiently access capital requirements needed to sustain and grow the business.
Our financial modeling astounds most clients, providing dynamic operational inputs with immediate graphic and numeric outputs of key operational and financial performance indicators along with projections of income statements, balance sheets, and cash flow. In valuing businesses, SRF moves beyond simplistic EBITDA multiples to risk-weighted value of projected free cash flows. All this supports our client's decision making on finance and corporate strategy.
While we develop business finance strategies, we always give attention to public financing opportunities for private business. Public finance differs from private finance in that the public seeks "programmatic" return on investment, not just financial return on investment. This means that when a project and business is creating jobs, increasing tax base, creating jobs, attracting foreign investment, creating jobs, reducing environmental impacts, creating jobs, or addressing highway congestion we can often find public financial support. Did we mention creating jobs? If you're creating jobs, public finance is a real possibility for your private business.
Our advisors have closed over 120 public finance transactions, ranging from various grants and monetized tax credits to taxable and tax-exempt bonds, state economic development, and infrastructure bank loans. Our team has closed financings with local CDFIs (community development financial institutions), state development authorities, the Economic Development Administration, US Department of Agriculture, the US Small Business Administration, and more. SRF advisors have successfully helped close over $2.5 billion in US DOT Railroad Rehabilitation and Infrastructure Finance (RRIF) loans, including the largest RRIF loan ever closed for a Class III railroad.
SRF intentionally avoids representing a specific bank or fund. Yes, we keep being asked—but yes, we consistently decline. SRF will not give up the independence we believe essential to being a trusted advisor. We must fully align ourselves with our client's interests and we cannot compromise that alignment by promoting an allied funding source. Our job, as a trusted advisor, is to provide the business owners with our undivided attention.
SHIPPEr Advisory
Railroads were America's first great industry, as evidenced by the fact that 125 years ago approximately half of all publicly-traded stocks were railroads. The Pennsylvania Railroad had staff and revenues exceeding the US federal government, and the railroads dominated fledgling industries like steel and energy. Today is quite different. But even now, railroad's special regulatory status—from not participating in social security, to not being regulated by OHSA, to exemption from all local zoning—together with an insular, railroader culture — has contributed to certain disconnect from customers. 
Most customers need the big railroads more than those railroads need the customer. This relationship is evidenced by current trends in Precision Scheduled Railroading, one of the most financially successful yet non-customer-centric business strategies in recent memory.  Downsized or non-existent customer service and industrial development departments has left shippers wondering: How can I do business with the railroads? It's harder than ever. And more than ever, shippers that rely upon railroads need help to manage their railroad assets and activities.
In response to this need, SRF founded an affiliate, Strategic Rail Industrial Services, as a joint venture and strategic partnership with distinguished industry professionals, rail service providers, and investors to offer complete, turnkey rail services to shippers. Our goal: to make railroading accessible to non-railroaders.
Our team brings knowledge of multiple transportation modes—rail, trucking, barge, and maritime—to help businesses optimize their supply chains, select ideal project sites and then develop, operate, and maintain those rail facilities. We can assist with planning, procurement, management, and operations. We will even purchase-leaseback-operate-maintain existing rail facilities.
Our affiliate, Strategic Rail Industrial Services, can support SRF's site selection services with turnkey rail solutions—from supply chain optimization to design to finance to construction, operations, and maintenance.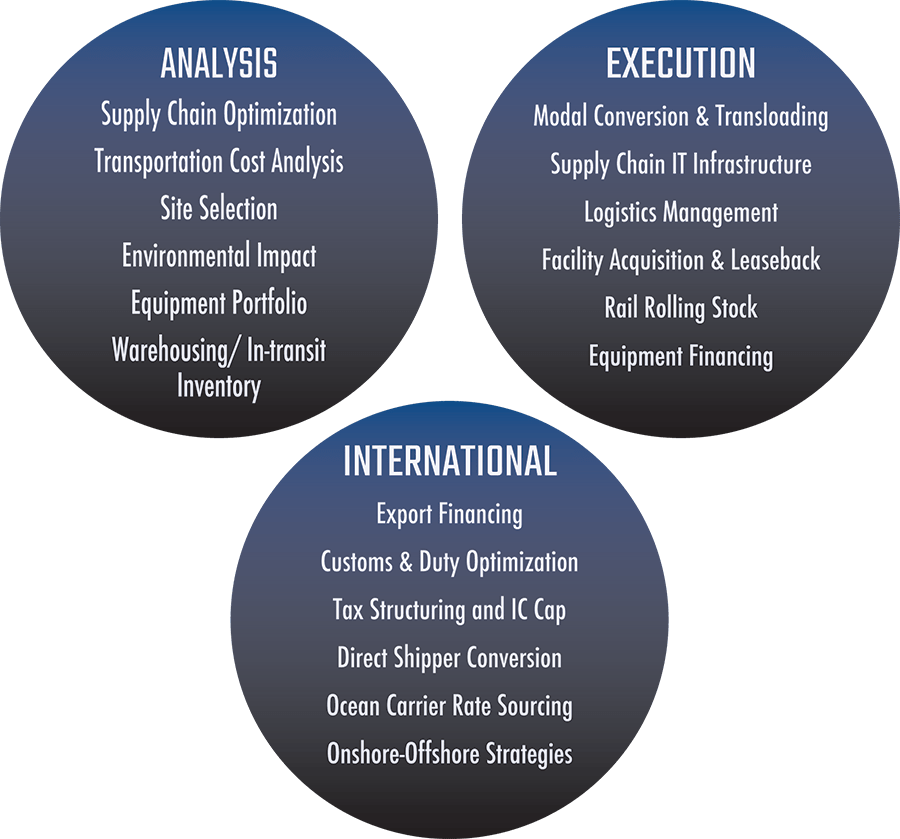 Financial and Operational Solutions for
Rail Shippers and Industrial Developers
215-564-3122
INDUSTRIAL PROPERTIES
Location, Location, Location—the three drivers of real estate value. And most real estate professionals can apply these three principles to housing, retail, warehousing, or basic industrial properties. But just what does "location" imply for an industrial user or distribution facility that requires intermodal or direct rail service over proprietary rail networks?
Distance in freight transportation is measured in time and dollars, not miles. Two industrial sites located just a mile apart may be hundreds of dollars and many days apart when considering freight costs from the same supplier or to the same customer. An industrial site in Kansas City may be much "closer" to Mexico City than New York City when considering travel time and cost. Miles don't matter—it's a function of network and operations.
Strategic Rail Finance understands that savings on logistics go straight to the bottom line—all profit. We understand that for heavy industry and distribution businesses, long-term freight costs implicit in site selection quickly outweigh any benefits of tax incentives, free land, low-interest loans, and even publc-sector grants.  And unlike any traditional broker or site selector, SRF understands the concept of "location" on the North American rail network.
With team members having executive experience in industrial operations, business logistics (across trucking, rail, barge, and maritime), finance, and real estate SRF can perform comprehensive site alternative analysis. We can engage with railroad operations and commercial teams to understand what's viable and most likely to succeed at a given location. Our financial analysis and modeling skills easily translate complex alternative analysis into quality information to support decision making.

SERVICES
• Site selection
• Rail asset and rail business valuation
• Commercial viability analysis
• Financial and economic modeling
• Railroad engagement and negotiations
• Land use planning
• Supply chain optimization

Commercial/ industrial real estate brokerage and site marketing services.
215-564-3122
EQUIPMENT FINANCE
Traditional bankers and leasing companies understand the value of backhoes, dump trucks, harvesters, tractors, and other common equipment. Railroad equipment presents some challenges in financing. But what is the collateral value for a 35-year old, rebuilt switching locomotive? And what is the resale market for that locomotive? And if you must start the equipment lender conversation by answering the question, "what is a hi-rail truck?" you're probably having the wrong conversation. Let SRF help.
SRF has been bridging the gap between the railroad industry and lenders for over 25 years. We've come a long way from our first finance project—to secure financing for a small fleet of used boxcars for a short line to now being approved by the USDOT to provide asset valuations for federal rail loan programs. So, whether you are looking to finance your next acquisition, or you seek to refinance and restructure your equipment pool or establish a collateralized revolving equipment line of credit, give SRF a call.
Few projects are too small or too large. Our team has helped finance everything from single pieces of maintenance-of-way equipment to whole locomotive fleets, with total equipment financings exceeding $2 billion. With our extensive network of finance partners, we can help with the most challenging equipment finance solutions.
SERVICES
• Asset valuation
• Lease financing
• Equipment pool refinancing and restructuring
• Collateralized revolving credit facilities