360° Freight Market Intelligence
Delivering Best-in-Class Market Intelligence to the Transportation and Logistics Industry
Government agencies and private businesses are planning facilities, locations, and supply chains based on incomplete and misleading freight information.  By relying on the opaque, siloed data of typical sources and methods, planners and investors are making inappropriate decisions that lower return on investment and increase costs to users and society. 
OnTrackNorthAmerica (OTNA) has established a 360-degree methodology that pierces the veil of obscurity with in-the-field insights and stakeholder interviews properly informing strategy, design, and siting. Our proprietary process includes the fusion of data provided by multiple private data platforms and combines this information with our stake-holder facilitation platforms to deliver unparalleled analysis that answers the who, what, where and why for major initiatives in transportation service and infrastructure. OTNA's freight market market intelligence practice has served some of the nation's largest clients, and our projects have delivered breakthrough insights, becoming a key component in strategic decision matrices.
Our Process & Data Sources
 Our practice employs data scientists with extensive expertise in: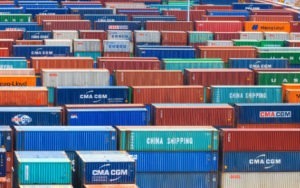 GIS Mapping and freight production-consumption based demographics
Bill-of Lading platforms and static datasets from Panjiva® and IHS Piers®
Trucking data provided by IHS Transearch
FreightWaves® Sonar for rail intermodal and trucking: freight corridor pricing and volume statistics
STB waybill sampling extrapolation for manifest/carload rail volumes.
OTNA performs advanced synthesis of the multiple datasets to deliver objective findings that are further supported by on-the-ground observations by our freight practitioners and finally, subjective input is provided by our signature approach to stakeholder engagement, the IntelliConference platform.
The result is highly reliable freight-based market analysis that provides a 360° view of geo-markets, BCO Identification, Shipper Savings Models (SSM's), equipment and cargo freight corridors/commodities and corresponding infrastructure development projects designed to optimize freight mobility for both beneficial cargo owners and transportation stakeholders.
OTNA's above capabilities are fully differentiated from other advisory service providers:
Broadly-sourced synthesis. We synthesize data from multiple sources because our practitioners fully understand the shortcomings and reliability of individual freight data providers. This ensures that there is no over-reliance on unreliable data from any single freight data provider.
Real-world experience. Many of our team members have deep experience as direct operators with complete understanding of the physical and commercial aspects of transportation and logistics. This ensures that our market studies and recommendations are grounded in the commercial reality and guard-rails of the major ship lines, railroads, trucking and 3PL service providers.
Case Studies In Brief: Selected Engagements
Business Case #1: COMMERCIAL VIABILITY OF INLAND MULTI-MODAL TERMINAL DEVELOPMENT
Who: World-leading real-estate and terminal developer:
What: Viability of 100mm SQFT distribution complex and private ICTF
Where: 130 miles inland from the Port of NY/NJ to service east/west bound drayage traffic from port and inland markets
Result: Identified over 300K import/export shipments and 525K TEUS passing through the study location from central and western PA and Ohio Valley. Produced a database of over 1,000 shippers and conducted a SSM for rail intermodal interception, yielding a 50% savings versus over-the-road drayage.
Business Case #2: MARKET INTELLIGENCE FOR BCO IDENTIFICATION
Who: Northern Nevada Development Authority:
What: Viability of Integrated Multimodal Cargo Transfer Facility (IMCTF) to Intercept dry-van cross-country through traffic (Export) with destinations of Oakland and LA/LB.
Where: 230 miles inland of the Port of Oakland and 500 miles from SPB Port Complex – Reno/Sparks/Fernley Region.
Result: Identified 2mm truck moves and 800,000 domestic west-bound dry van traffic bound for international container conversion at the two target ports complexes with a minimum conversion to rail of over 225-300K TEU'S. Threshold of road to rail conversion to increase significantly should the site location provide specialized cargo services for farm and food products. 
Business Case #3: MARKET INTELLIGENCE FOR BCO IDENTIFICATION
Who: Alabama State Port Authority:
What: Extremely poor visibility of state domiciled BCO's, including their regional location, international trade lanes and volumes. A need to capture this information for porting to CRM to support decision analysis for both business development and rail infrastructure and mobility investments.
Where: State-wide with specific interest in BCO's located in potential inland ICTF locations of Birmingham and Montgomery.
Result: Delivery of complete database capturing 60-70% of state-wide BCO international trade activity by state economic regions. The end-product supported a $200mm+ State rail infrastructure improvement project. The study and resulting report also supported the viability of an inland Montgomery-to-Mobile ICTF rail shuttle, which would deflect over 150K TEUS from USEC Ports and improve intermodal mobility for existing Port of Mobile BCO's.
ANALYSIS
Supply Chain Optimization
Transportation Cost Analysis
Site Selection
Environmental Impact
Equipment Portfolio
Warehousing/In-transit Inventory
EXECUTION
Modal Conversion & Transloading
Supply Chain IT Infrastructure
Logistics Management
Facility Acquisition & Leaseback
Rail Rolling Stock
Equipment Financing
INTERNATIONAL
Export Financing
Customs & Duty Optimization
Tax Structuring and IC Cap
Direct Shipper Conversion
Ocean Carrier Rate Sourcing
Onshore-Offshore Strategies
Many consultants to the public sector sell plans. SRF does deals. We bring that same actionable, bankable focus that creates private sector success to all our public sector work.