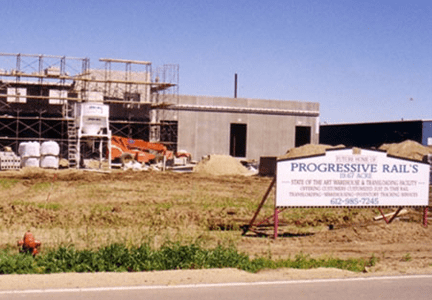 PROJECT DESCRIPTION
Finance $3.5MM rail transload, warehouse, and rail yard
BACKGROUND
Progressive Rail sought financing for a 50,000 sq. ft, 21-acre warehouse and transload operation.
Owner Dave Fellon was hemmed in by the peculiar challenges of railroad financing. After nine months of presenting his operation to every conceivable lender, neither his own bank, nor any other lender would finance this $3.5 million growth project. Fellon's current bank held title to all corporate assets and was unwilling to lend more despite the expansion of the asset base since the previous financing.
SRF APPROACH
Strategic Rail Finance formulated a multi-part strategy which combined new financing with a reengineering of existing debt, credit lines, and collateral assignments.
RESULTS
130% financing
Coordinated $2.5 million 20-year financing at prime+75 bps
Arranged $500,000, 1.77%, 10-year state government loan
Secured $685,000 additional credit facility on existing assets
Established $750,000 equipment purchase line of credit
Negotiated $200,000 cash contribution from connecting Class I carrier
Facilitated release of cash, inventory, and receivables from all collateral assignments
Brought $4.6 million to two-mile industrial park switching railroad